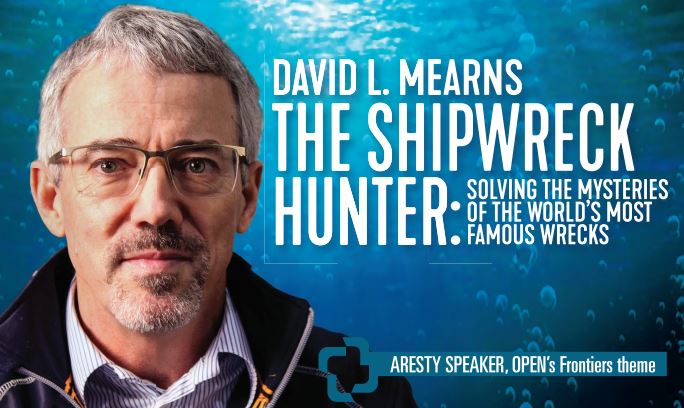 Aresty Speaker & Shipwreck Hunter David L. Mearns Talks Finds
OPEN, Shipwreck Hunter, USF, USFSP
Coming Live – Tuesday, May 7th @ 7:00 PM
The Mahaffey Theater
David L. Mearns is a USF graduate student alum and the holder of three Guinness World Records for shipwreck finding, including one of the deepest ever found – German blockade runner Rio Grande. He and his company, Blue Water Recoveries, Ltd., are the protagonists of many shipwreck documentaries, including the British television documentary How the Bismarck Sank H.M.S. Hood.
The event is FREE and open to the public – but please RSVP here to guarantee your seat.
Brought to you by the USF College of Marine Science in partnership with: OPEN Partnership Education Network at USFSP, The Aresty Family, Duke Energy, St. Petersburg Downtown Partnership, St. Petersburg Innovation District, USGS, and Harvard Jolly Architecture.
Related Post
Open Partnership Education Network and Aresty Family, in collaboration with WUSF Public Media, The Poynter Institute ...
Students and community members from throughout the Tampa Bay area had the rare opportunity to receive leadership training from an internatio...
SOLD OUT!  Pulitzer Prize winner Gilbert King packs the house. OPEN kicked off it's 2019-2020 season by selling out the venue for OPEN Ar...