NPR 1A Live in St. Pete
Open Partnership Education Network and Aresty Family, in collaboration with WUSF Public Media, The Poynter Institute and the The Community Foundation of Tampa Bay are proud to present a live broadcast of NPR's 1A featuring Aresty Speaker Joshua Johnson. NPR's 1A is one of the most important daily topical review shows in America.
A Florida native, Joshua Johnson is a journalist, public radio innovator and host of the program "1A," prduced by WAMU in Washington D.C. and nationally distributed by NPR. Earlier in his career, he helped launch a unique regional news partnership between Miami's NPR station, WLRN, and The Miami Herald, served for over five years as morning news host for KQED in San Francisco and co-created and hosted the provocative nationwide public radio series, "Truth Be Told."
The community is invited to be a part of the live broadcast on February 11 @ 9:30 AM at The University of South Florida St. Petersburg's University Student Center (USC).
In order to complete final set-up for the 10:00 AM live broadcast doors will be closed, and no further access will be granted, at 9:30 AM. You should plan to arrive by 9:00 AM in order to park, enter the facility, and check in.
An exciting update! This event is now sold out. You'll be able to view the Eventbrite page, however there is no longer the option to RSVP. We look forward to sharing photos, videos, quotes and links to the broadcast following the event. Like us on Facebook to stay up to date with other great speakers and intellectual events in St. Pete!
Live broadcast of 1A is brought to you by: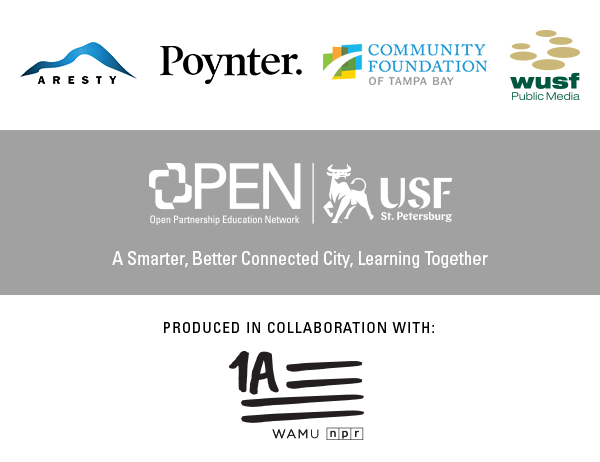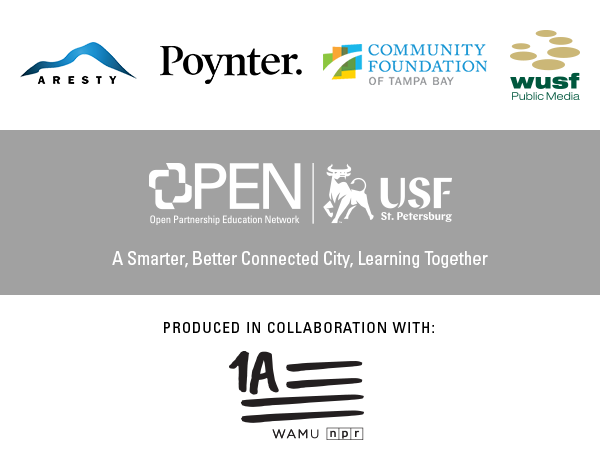 Related Post
Students and community members from throughout the Tampa Bay area had the rare opportunity to receive leadership training from an internatio...
Coming Live – Tuesday, May 7th @ 7:00 PM The Mahaffey Theater David L. Mearns is a USF graduate student alum and the holder of three G...
This story was originally published on the USFSP blog. (March 9, 2018) –Lynn Pippenger Hall auditorium was packed to capacity on March 1, ...