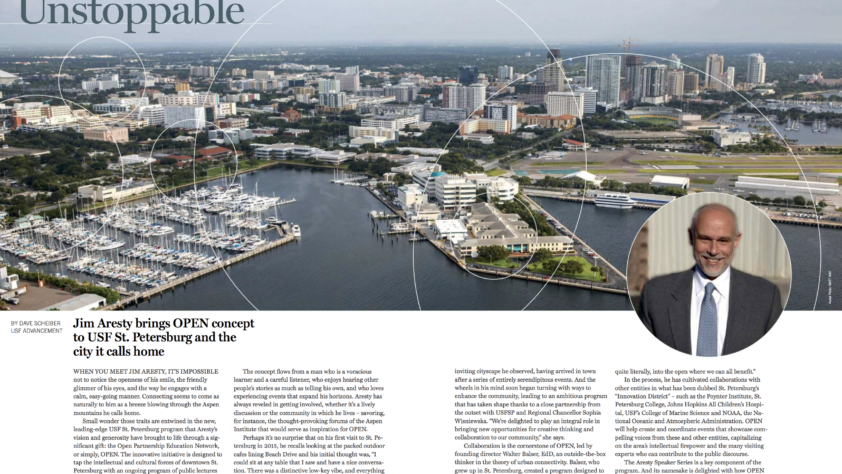 OPEN Founder Jim Aresty featured in USF Magazine
Jim Aresty brings OPEN concept to USF St. Petersburg and the city it calls home
When you meet Jim Aresty, it's impossible not to notice the openness of his smile, the friendly glimmer of his eyes, and the way he engages with a calm, easy-going manner.  Connecting seems to come as naturally to him as a breeze blowing through the Aspen mountains he calls home. 
Small wonder those traits are entwined in the new, leading-edge USF St. Petersburg program that Aresty's vision and generosity have brought to life through a significant gift:  the Open Partnership Education Network, or simply, OPEN. The innovative initiative is designed to tap the intellectual and cultural forces of downtown St. Petersburg with an ongoing program of public lectures and themed events – with the ultimate goal of building a vital, better informed and more connected community.
The concept flows from a man who is a voracious learner and a careful listener, who enjoys hearing other people's stories as much as telling his own, and who loves experiencing events that expand his horizons.  Aresty has always reveled in getting involved, whether it's a lively discussion or the community in which he lives – savoring, for instance, the thought-provoking forums of the Aspen Institute that would serve as the inspiration for OPEN.