The World is OPEN
For citizens, businesses, groups–for all of us to become a
Smarter, Better Connected Community, Learning Together
Welcome to OPEN – a world of ideas, activities and connections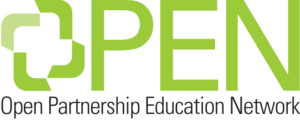 The Open Partnership Education Network, or OPEN, takes a transparent cross-organizational approach to community learning.  Through the OPEN framework that begins with intellectual engagement, themes that transcend communities begin to take hold, synergies between institutions and individuals are identified, and resources migrate organically to practical uses.  OPEN helps make us, literally, a smarter, better-connected community learning together.
Vision
OPEN is rooted in the understanding that when we act as a connected community we move faster, more easily, and with greater innovation to manifest the solutions we envision.
OPEN believes that all communities have the talent, resources and will to re-think – and co-create – how cities and their business, social groups and citizenry thrive.
OPEN intends to catalyze and support community-scale collaboration in ways that tap the potential of all to engage, share, partner and build future-facing solutions.
Mission
OPEN's mission is to make us smarter, better connected communities by making it easier for citizens to be inspired, educated, trained, funded and engaged in practical ways to address the issues we all face.
To achieve this, OPEN provides a framework of in-person and online tools so people can connect, share, discuss, and demonstrate how ideas become solutions.
Inspired by the renowned Aspen Institute, the OPEN initiative is made possible by the generosity of the Aresty Family Foundation and the vision of philanthropist Jim Aresty.
OPEN is about intellectual stimulation…our city is at an intellectual tipping point, ready to catapult to another level. I firmly believe that people have a desire to keep their minds active. In my view, our society wants to be the best it can be – and I want to be part of making that happen." —-Founder, Jim Aresty
OPEN Functions – Tools to Connect Ideas and
Thought Leaders Locally and Beyond
Distinguished Speakers
For intellectual engagement, OPEN brings distinguished thought leaders from around the world into our midst.  From 2016-2019 the Aresty Speakers Series invited luminaries to participate in dialogue across various themes.  Speakers may be hosted as stand-alone events or embedded into existing community engagements, such as conferences and workshops.
Microevents
For community connections, OPEN co-produces Microevents that invite participation from every corner of city life. OPEN network leaders collaborate with  dozens of neighborhood and group organizations to identify events, gatherings, street fairs, hangouts, jams, conferences and more that can be co-created together.
Festivals & Conferences
OPEN partners with conferences and festivals to bring ideas together under a "big tent".  In 2017 and 2018, OPEN partnered with the Et Cultura Festival, bringing  a city together for for five days of creativity, life and culture. Spreading experiences in art, music, crafts, food and Interactive–speakers, panels, exhibitions– across multiple Downtown venues, Et Cultura and OPEN teamed up to showcase local talent and promising social innovations.
learnOPEN (beta)
The learnOPEN portal is a public hub, an online gateway that features people, actions and programs that are shaping communities now.  Organized around key themes of city life, learnOPEN makes it easy to become informed and engaged in personally relevant, important topics. The learnOPEN portal curates events offered locally into themes that transcend each experience and offers containers within each theme where locally-sourced media and news can be shared with the public.
Media
Digital news, opinion, storytelling, documentary and expression of all types is encouraged in the OPEN framework. Through the OPEN Reel project we encourage ongoing creation, editing, re-editing and re-purposing of digital media content so that it elevates our community dialogue collectively.
Wiki
OPEN builds its events and initiatives in an open space where others can contribute or engage where and when it meets their needs. The learnOPEN.wiki is a portal built on Google G-Suite aiming to bring the resources, ideas and people working within the OPEN context together. This is a user-developed partner-facing inventory of who is doing what and how others might help.
Engaging Around What Matters To Us
Context drives OPEN's engagement and sharing activities. And connections drive creative, lasting solutions.
OPEN is organized around areas of focus, each defined as a THEME. A theme is a multi-dimensional topic that touches almost everyone in the community in one way or another – today and long-term.
OPEN invites all of our voices, ideas, resources and engagement to converge within the context of each theme. As concepts become more clearly defined through collaboration, OPEN empowers solution proponents with connections to expertise, resources and potentially even funding.
Common Ground
Through storytelling, art, and civic dialogue.
Frontiers
Explore the World of Science and Research
Future City
Join the community as we envision a smart, inclusive city for the future
Live Well
Wellness, healing, laughter, art
Rad Schools
A fresh take on learning intersecting education, music, and sports.
Seeds
Grow, sell, taste healthy food through sustainable urban agriculture